This book is accessible only to the Merrimack College community.
Off-Campus Merrimack College Users: To download this item, click the "Off-Campus Download" button below.
Non-Merrimack College Users: Talk to your librarian about requesting this item through interlibrary loan.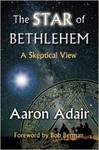 Book Title
The Star of Bethlehem: A Skeptical View
Contributor(s)
Foreword by Bob Berman
Description
The Star of Bethlehem: A Skeptical View is an analysis of the astronomical portent found in the Gospel of Matthew which supposedly led the Magi from the East to the birthplace of Jesus. Throughout history, people have tried to connect the Star to real, naturalistic phenomena, as well as to explain it in other ways. Adair takes a thorough look at all of these explanatory attempts, using the tools of science and astronomy, and finds them fundamentally wanting. Take a trip through the heavens above with Adair as he critically explores many centuries of flawed hypotheses, looking to answer the question "Did the Star of Bethlehem really exist?" This book is at the conjunction of science and religion.
Keywords
ancient astronomy
Disciplines
Astrophysics and Astronomy | Religion
Recommended Citation
Adair, Aaron, "The Star of Bethlehem: A Skeptical View" (2013). Books and Monographs. 21.
https://scholarworks.merrimack.edu/books/21